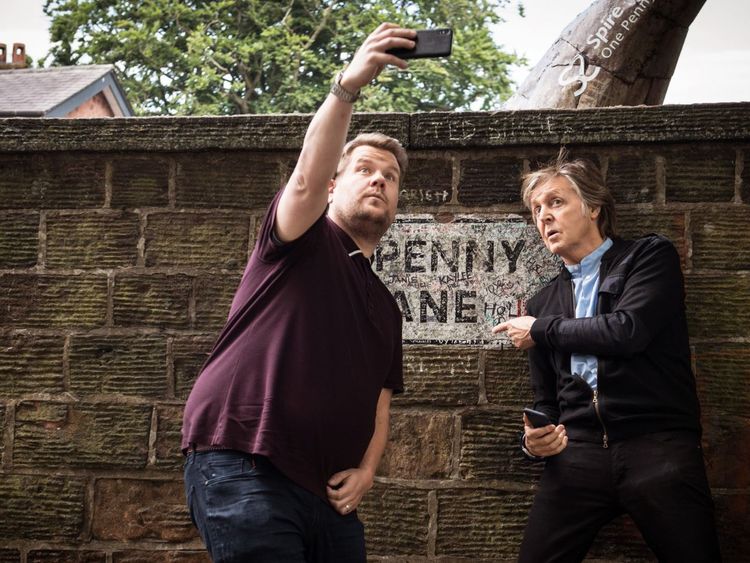 "She said, 'Let it be.' That's kind of good.' So I wrote the song 'Let It Be, ' but it was her positivity".
That little bucket list item was ticked by James Corden, who dropped the full instalment of "Carpool Karaoke" featuring legendary Beatle Paul McCartney on Thursday night's The Late Late Show.
Corden premiered "Carpool Karaoke" in 2015 with guest Mariah Carey. But then, out of nowhere, Taylor Swift stood up and said: "I'll do a song!"
McCartney recalled how he "had a dream in the '60s where my mum, who died, came to me in the dream and was reassuring me, saying, 'it's going to be OK". "I didn't feel it coming".
When the 18-time Grammy victor explained to Corden that The Beatles' "Let It Be" was inspired by a dream he had about his mother, the late-night host started tearing up.
As he led Corden through the home (even sitting down at the piano to sing "When I'm 64"), he told Corden how his father had critiqued "She Loves You", suggesting they replace the "yeah, yeah, yeahs" with "yes, yes, yes".
Nets acquire Dwight Howard, send Hornets Mozgov
The weird and unique story of this fallen star is one of the most intriguing in the National Basketball Association right now. Howard went to Charlotte and declared himself team leader - despite the presence of Walker, the franchise player .
Afterward, Corden was wiping tears from his eyes.
Corden said it was the "most lovely story" he had ever heard, before singing a teary rendition of the song.
While in Liverpool, McCartney took a trip down Penny Lane and showed Corden local landmarks including the church where he was a choir boy and his old barbershop.
"I've never been in since I lived there", Sir Paul says.
A visit to the famous Penny Lane was followed by a call at the singer's childhood home before the visit culminated in an emotional singalong at a city centre pub.
As Corden brings The Late Late Show to United Kingdom shores, the presenter and actor enlisted the nation's ultimate music export Paul McCartney for a sing-along in the passenger seat. They cycled through "A Hard Day's Night", "Love Me Do" and "Back the USSR", as onlookers filled the pub.